***This feature is available for Popify Basic plan users and above (click here to upgrade your plan)
Automate your cart recovery with a sequence of 3 abandoned cart notifications.
Using push notifications for cart recovery on your Wix store can help you to recover lost sales and increase your conversions without breaking a sweat.
With popify you can automate your cart recovery with a sequence of 3 notifications to remind people about their abandoned carts
Here's a quick How to get started guide that will help you enable & customize your Abandoned Cart Reminders:
1. Click on "Opt-ins" under "Abandoned carts recovery" on your Dashboard.
An opt-in lets you turn store visitors into subscribers by asking them for permission to send promotions and offers about your product and brands. Once shoppers click on "Allow" to receive these promotions, you can easily send them web push notifications and bring them back to shop.
The 'Opt-Ins' page on your Popify dashboard lets you set up subscription methods on your Wix store. There are 3 options available to you on the Opt-Ins page and we recommend using the "2 Step OPT-IN" for better results.
The "2 Step OPT-IN" , is basically a customizable opt-in dialog box. Some store owners prefer to give context over why shoppers should subscribe before they are shown the default browser prompt. You can provide this context by using this option. You can customize how the dialog box looks, the button color and text, the messaging, the placement of the opt-in, and even when it appears on the screen.
3. Once you're done selecting an opt-in option and modifying the way it looks, click on the "Save changes" button
4. Click on "Reminders" under "Abandoned cart recovery" on the side menu and activate your cart recovery reminders by clicking on the "Active" switch on the right side of the screen.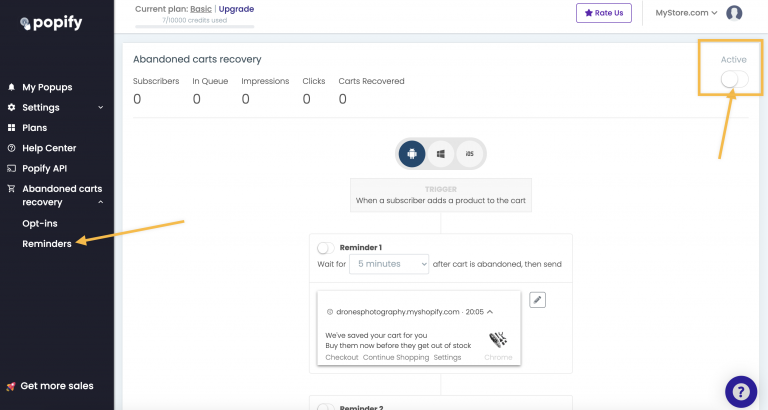 5. Enable the reminders you would like to send and set the timing of sending. You can edit the text and the display of each reminder by clicking on the edit icon right next to it:
6. Visit your store and test if you see the Optin prompt and the browser prompt.
Approve receiving notifications and try to add a product to cart and see if you get the push notifications according to the reminders you set.
If you don't see the opt-in or you don't get the notifications, check out our Troubleshooting guide.
Watch this video to learn how to activate the abandoned carts recovery on your store: